Unconventional Ag
When:
November 29, 2022 @ 7:00 am – November 30, 2022 @ 7:23 am
2022-11-29T07:00:00-06:00
2022-11-30T07:23:00-06:00
Where:
Hyatt Regency Minneapolis 1300 Nicollet Mall, Minneapolis, Minnesota 55403, USA

UNCONVENTIONAL AG

Previously the Organic & Non-GMO Forum
This focused event and news platform features innovative, sustainable, and value-added opportunities for farmers, grain handlers, processors, procurement groups, startups, equipment/technology providers, and more. The 8th annual conference highlights specialty oilseed, grain, vegetable oil, and plant protein production alongside trade and processing. It showcases regenerative, organic, and sustainable agriculture methods. Unconventional Ag News follows suit by providing the most current and pressing information to readers through a weekly email newsletter.
Unconventional Ag is the industry source to discover how to differentiate products and processes and take advantage of emerging markets related to specialty oilseeds, grains, and their by-products.
Insta-Pro International is attending Unconventional Ag in Minneapolis, Minnesota to share the importance of proper extrusion in animal feed ingredients and soy food products. Use code IPI-VIP for 10% of your registration price.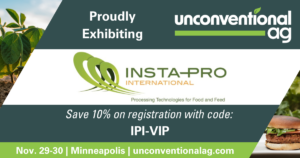 Please contact us below for more information on this show.