Hammermill Air Relief Systems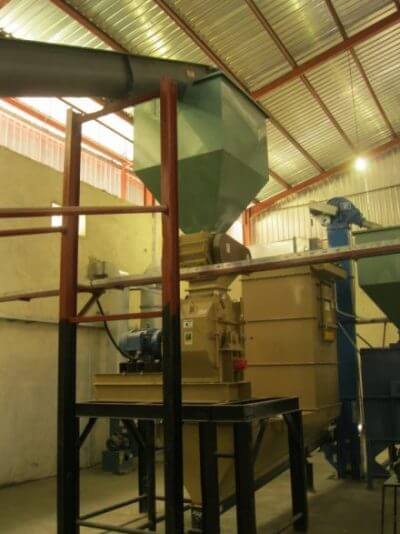 Awhile back, in our blog about Particle Size Reduction, we discussed several particle size reduction methods.  These included rollermills, pulverizers, and hammermills.  Some limitations of the hammermill included making the finer grind sizes needed for smaller pellets and milling efficiency for larger capacities.  To help achieve these goals, an air relief system can be added.
What It Is:
An air relief system is an addition to the hammermill that allows air to be pulled away from the mill.  This helps product flow through the mill easier and prevents it from getting stuck in the mill.  The hammermill itself creates several thousand cubic feet per minute (CFM) of airflow during operation. This airflow helps push the product out of the mill.  On the other hand, in larger capacities or finer grinds, this air can become trapped within the mill and hinder performance.  The air relief system uses a fan-based system to pull this dead air away from the mill so that the mill can become more efficient.
How the Relief System Works:
There are a few different ways to use an air relief system on a hammermill.  The following images show three main ways:
Negative product conveying: A fan and cyclone system pull air from the hammermill discharge to convey product to the next process step.  This helps control dust and is an efficient method of conveying product.  This is typically seen as part of the final loadout process within a plant.
Air Assist w/ Bag Filter: The hammermill sits on top of a plenum chamber with a bag house.  The fan pulls air from the mill through the baghouse to help draw product through the mill but to also help with dust control. All product falls into an enclosed conveyor to the next process step.  This is a common setup for most applications.
Air assist w/ cyclone separator: A modification of the bag filter method, this setup uses a cyclone instead of a baghouse.  This is an older design, but it is just as effective.
Not Only For Hammermills:
Air relief systems are not limited to hammermills, either.  They can be mounted to any size reduction application and are often recommended for the larger systems due to the increase in efficiency of the mill and dust control. Be sure to work with an expert to help size the system because the correct airflow and plenum design must be calculated to ensure the best performance. When you work with us at Insta-Pro Intl, our Engineering team will support you with these types of decisions and the rest of your plant design.
Process diagrams courtesy of Bliss Industries, Inc.