Key Factors in Developing Vendor Relationships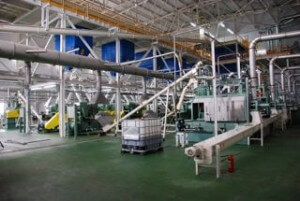 We often discuss the importance of developing a partnership with our customers, but another very important relationship is the one we have with our vendors.  Without strategic partners, we would not be able to offer the level of service and support our customers need.
Jack of All Trades:
It often seems like you run into people who know a little about a lot of things, but are not what you'd consider "experts".  It's important to find partner vendors to strengthen the areas in which you are weak or do not have as much experience.
We specialize in extrusion and pressing equipment and technology.  We are not a milling vendor, a dryer/cooler vendor, or conveying vendor (among other things).  We focus our efforts on being experts in extrusion technology.  This focus that allows us to be the best we can be for our customers.  Specializing in extrusion and pressing equipment has enabled us to become experts and use our resources to provide our customers with the highest quality machines and customer service. Through our vendors, we are also able to provide high quality supporting parts and machinery without having to take our attention away from what we excel at. Due to our smaller size, we have to be more specialized in what we do but that doesn't mean we can't provide our customers with everything they need.  This is a lesson that can be applied to your business as well. 
Trust Partnership:
While we may not be the vendor for some of the equipment we provide, we are a trusted resource to our customers.  In that same sense, our partner vendors are a trusted resource for us.  We call on them for advice and support when needed.  You can be this to your customers as well.  They will come to you with questions and for advice as a trusted resource.  While you personally may not have all of the answers, using your contacts with your vendors or partners you'll be able to provide them with a reliable answer.  From there, a working relationship and trusted partnership is formed.
Things to Look For:
It's important to be aware that not all vendors are created equally.  You should do some research before deciding to form a partnership with a company.  Here are some common things to consider:
-Do they have a proven track record and examples of their work?
-Are there any word of mouth recommendations?
-Do they have reviews from customers?
-How do they treat their customers (customer service)?
You can usually find equipment and services for less cost, but when you need support, will someone be there?  As the old saying goes, "you get what you pay for."  Being proactive and doing the required research will save lots of headaches down the road.