Particalizer vs Cutterhead: What's the Difference?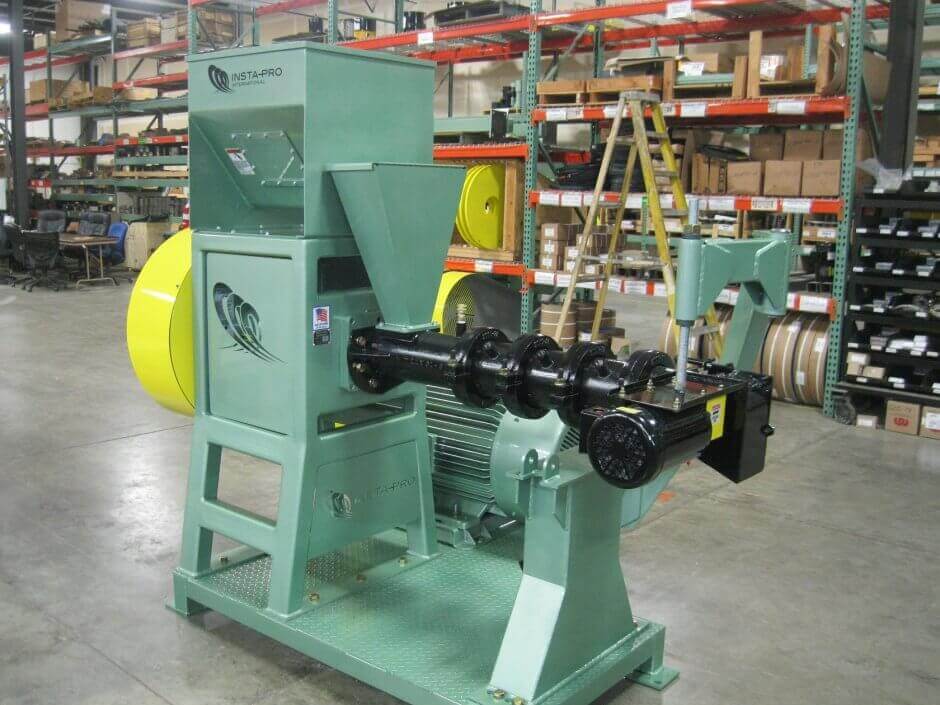 When it comes to extruding materials with higher starch content, such as corn, pet food or fish feed; some type of cutting device is necessary. As these start to gelatinize, they exit the extruder in a long rope.  Such is the case with corn extrusion (Figure A).  And pet food or fish feed extrusion, a certain shape is desired. Each of these applications requires a cutter of some type in order to either make the final product easier to transport or create a desired final shape.
Particalizer
The particalizer is a specially designed cutter developed by Insta-Pro to help break down extruded high starch products into easy to handle and transport pieces. It is an attachment that goes onto the end of the extruder (Figure B) and is used in conjunction with the nose cone. As the above picture shows, not using the particalizer will result in a very unmanageable process! There are a series of spinning paddles that break the extruded product into smaller pieces. The size of these pieces is controlled by the speed of the particalizer.  This attachment is best suited towards high starch extrusion such as corn-soy blends and would not be ideal for precise cutting applications.
Cutterhead
Regarding extruder cutting devices, the cutterhead (Figure C) is likely what most people are familiar with. A typical cutterhead will have a series of knives that cut product as it exits a die plate. These are mainly used in the pet food for fish feed industries, although they can be used for other shaped products like TSP. When precise cutting is required, this is the preferred method. 
These are two different cutting offerings from Insta-Pro, each with their own specific use. The particalizer will be used mainly for processing starches for gelatinization whereas the cutterhead will be used for shaped product production such as with our MS3000 medium shear extruder. Each has a specific purpose, so let the experts at Insta-Pro point you in the right direction!