ExPress® Soymeal: An Excellent Source of Digestible Amino Acids and Energy for Swine
Insta Pro® is constantly testing our new and existing processing technologies to evaluate ingredient quality through animal feeding trials. Recent research conducted at the University of Illinois (Dr. Hans H. Stein, Monogastric Nutrition Laboratory) demonstrated greater digestibility of amino acids and energy concentrations in ExPress® soymeal with respect hexane-extracted soybean meal fed to growing pigs.
ExPress® soymeal had an advantage of 3.6% units greater digestibility of essential amino acids in comparison with the hexane-extracted soybean meal. When individual amino acids were determined, ExPress® soymeal showed superior digestibility of the main limiting amino acids in swine diets. Indeed, the digestibility of lysine, methionine and threonine in pigs fed properly processed ExPress® soymeal were 3.4%, 3.1% and 3.7%, respectively, more than the hexane-extracted soybean meal (see graph below).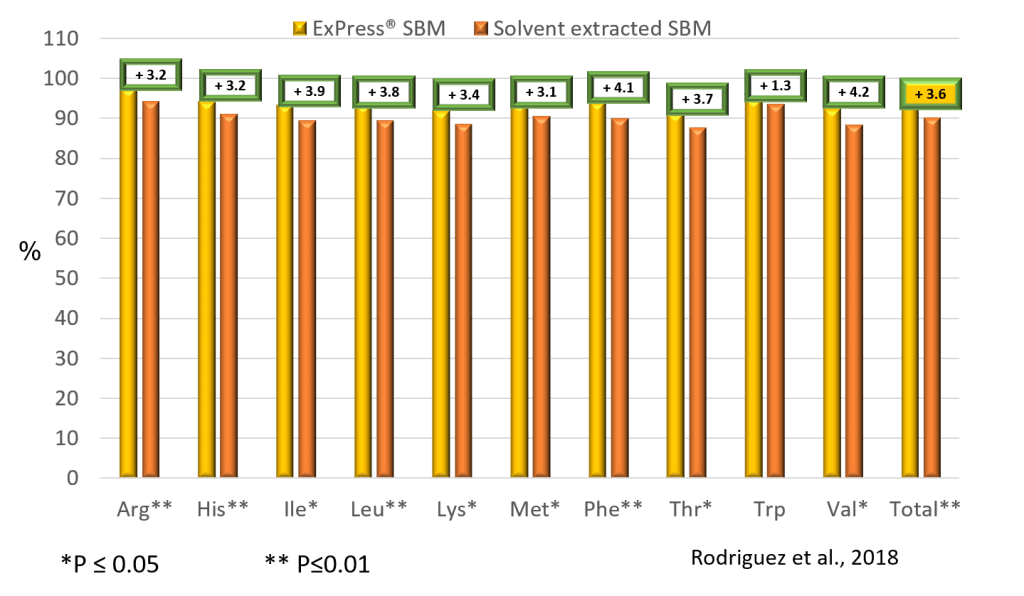 In addition, the digestible and metabolizable energy concentrations of ExPress® soymeal were 558 and 605 kcal/kg greater, respectively, than hexane-extracted soybean meal.
These advantages of ExPress® soymeal can be attributed to the following:
The changes in the cell structure (physical rupturing) that occurs when high-temperature short-time processing occurs.
More nutrient concentration per unit of dry matter, as well as proper antinutrient deactivation.
Facilitates access to proteins, making it easier to digest and absorb amino acids.
More metabolizable energy due to 6-8% residual oil content. This benefit means, other sources of oil or fats can be removed from the ration.
The proper use of processing parameters during high-shear dry extrusion as a key factor to produce a high-quality feed ingredient.
The uniqueness of Insta-Pro® processing technologies with respect to others
Overall, ExPress® soy meal provides better digestibility of amino acids and increased energy concentration in one ingredient allowing proper diet formulations which can consistently be realized. Additionally, when using ExPress® soy meal, it is possible to get a simplified diet and reduced diet cost by removing or decreasing the amount of synthetic amino acids and fats/oils and replacing them with one high-quality soy ingredient.
Contact us to learn more about the benefits of ExPress® soy in swine.