Broiler Integrators: Want to Increase Revenue & Profit? Optimize Your Feed Conversion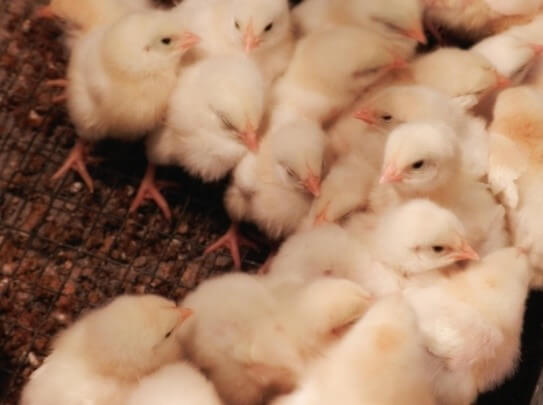 As the poultry industry is facing many challenges, integrators can take actions now to increase their revenues. When selecting ingredients for poultry diets, applying feeding strategies is crucial to "move the needle". An effective feeding program should focus on feed management strategies to select ingredients with the most effective nutrients.
ExPress® soy meal is a high-quality ingredient with optimal protein and energy for animal feeding, providing 2% more digestible amino acids and 589 kcal more of true metabolizable energy for poultry diets when compared to solvent extracted soybean meal, as demonstrated in a feeding trial conducted at the University of Illinois in 2016. Additionally, the versatility of high-shear dry extrusion allows the production of  extruded corn, an ingredient that provides more than 90% gelatinized starch facilitating the activity of starch degrading enzymes in the digestive tract of animals.
The nutritional advantages of both extruded ingredients were demonstrated in a 2020 trial conducted at Iowa State University, which evaluated growth performance of broilers chickens fed ExPress® soy meal and high-shear dry extruded corn-based diets versus a control diet including solvent-extracted soybean meal and ground corn. As shown below, there was an impactful response in feed conversion of growing broilers fed dry extruded corn and ExPress® soy meal.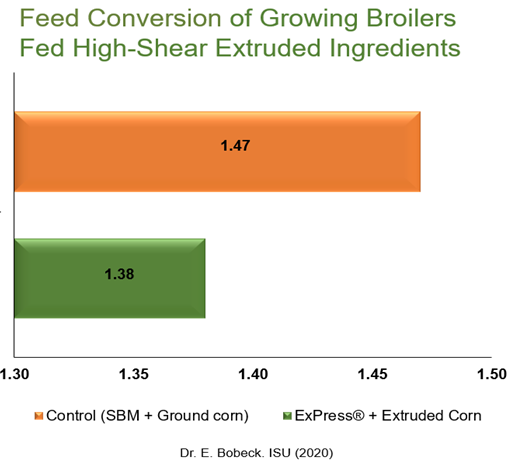 There was a significant improvement in feed conversion ratio, which was lowest (most efficient) when feeding both extruded ingredients. Specifically, grower broilers fed extruded ingredients ate less feed per unit of body weight gained during this phase with respect to the control diet (1.38 vs 1.47). In addition, at the end of the 28-day grower period, broilers fed extruded ingredients had a greater body weight when compared to the group fed non-extruded ingredients. When consumed in the same diet,  dry extruded corn and ExPress® soy meal in poultry diets work properly in synergy to improve feed conversion of grower broilers.
With rising feed costs, broilers ability to convert nutrients from high-shear dry extruded ingredients may be crucial for poultry integrator revenues.
Poultry industry stakeholders should contact us to learn about the nutritional advantages of using optimal high-shear dry extruded ingredients.