No DDGS? Now What?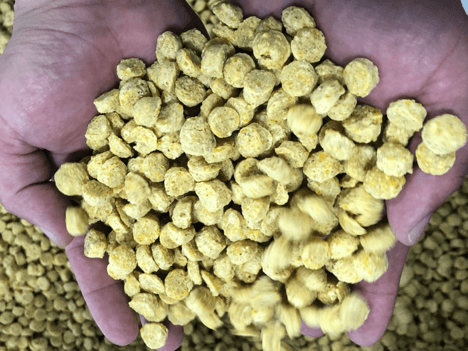 The ethanol industry in the U.S. has faced many challenges in the last few years. So far in 2020, there has been a sharp drop in oil prices, forcing plants to idle, attributing to shortages of DDGS.  This is a common feed ingredient used in the majority of farm animal diets. In response to the limited supply, DDGS prices have sharply increased, including a record high price, on average, of $193/Ton in April (USDA Outlook Report, April 10th, 2020). With already tight margins on feed costs, this has many livestock producers seeking alternative, low-cost ingredients to replace ethanol by-products.
The increased cost and lack of availability has impacted livestock production, including pig producers adjusting the diets to include more soymeal and corn over DDGS to meet the animal's nutritional demands. With competitive commodity pricing for corn, one strategy is to generate value-added, high-quality extruded feed ingredients to replace DDGS, including high-shear dry extruded corn and ExPress® soymeal. High-shear dry extrusion has many nutritional advantages compared to other feed ingredients, including increased amino acid and energy digestibility, which has been proven with almost 50 years of animal feeding trials.
High-shear dry extruded corn has a greater than 90% starch gelatinization – compared to ground corn at only 24.6% gelatinization as shown in the figure below. The higher degree of starch gelatinization of extruded corn improves the feeding value, including energy.
In another study, the degree of gelatinization of the starch affects the digestion and metabolic response to the starch breakdown. Based on this data, the extruded corn stimulates greater microbial protein production when compared to ground corn. In summary, extruded corn has the highest degree of gelatinization which results in improved nutrient digestibility over ground corn and DDGS.
Using high-quality extruded ingredients to replace other low-quality ingredients, such as DDGS results in cost-savings. To learn more about high-shear dry extruded corn and ExPress® soy meal, contact your Insta-Pro representative.