Diversifying Revenue Streams

Kevin Kacere, President and CEO, previously wrote that diversification of revenue streams within your business can help mitigate risk and balance revenues in new markets. Equipment adaptability and ingredient flexibility means our customers are at a unique advantage to diversify revenue streams across different markets.
ExPress® soybean meal is a high-quality ingredient processed by mechanical extrusion and pressing. ExPress® meal uses mechanical friction and heat to properly cook the soybean via extrusion, then oil is extracted using a mechanical press. When compared to conventionally processed solvent-extracted soybean meal, ExPress® meal contains a higher residual oil content of 6% – 8%, and thus, along with advantages due to proper dry extrusion process, has a higher feeding value than solvent-extracted meal.
Due to the mechanical process, organic and non-GMO soybeans can be processed into ExPress® meal and sold as feed for animals marketed as organic and non-GMO. Consumer demand for more organic and non-GMO products is leading more producers to consider switching from conventional to value added markets. The Organic Trade Association Organic Industry Survey from 2016 shows the U.S. Organic Market was worth approximately $43 billion dollars in 2016, more than a 10% increase from previous years' worth shown below. Additionally, large manufacturers have made new commitments to organic and non-GMO labeling of their products. Overall, the growth in the organic market identifies one of the ways to diversify revenue streams in a value added market.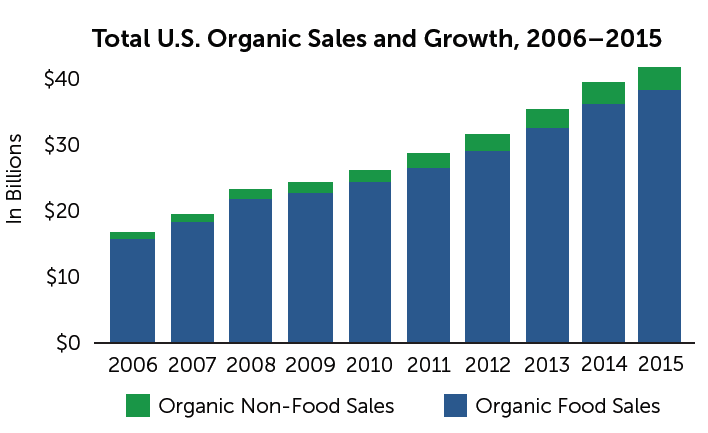 As the soybean meal market becomes more competitive globally, lower priced alternatives to soybean meal have become available. Insta-Pro's extruders have successfully processed a wide range of ingredients with many different commercial applications. When these ingredients are extruded, the feeding value increases as a result of improved nutritional quality. For example, extruded stabilized rice bran can be run on the same extruder as soy, but with a slightly different set-up. The extruder technology is one that can be adapted for many different applications. The flexibility to change the extruder's configuration and process other ingredients is a valuable option for our customers.
Additionally, a short-shafted extruder can be used to process high starch ingredients, such as corn, by replacing the soy chamber with a short-shafted chamber. As an innovative company, Insta-Pro has a state-of-the-art Research and Development Center in Grimes, Iowa, that can be contracted to develop the process for new and novel ingredients.
Overall, diversifying your business's revenue streams can be easily implemented with Insta-Pro's equipment which produces high quality ingredients for feed and food. Contact us today to learn more about our equipment.